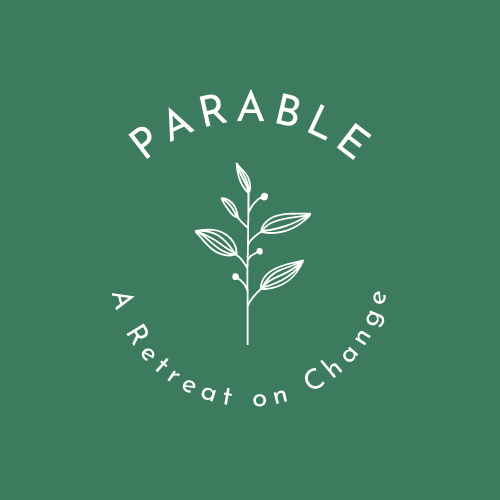 Parable: A Retreat on Change
Change has marked all our lives.nnThe past year has overflowed with change—personal and communal, private and public, big and small. As the seasons turn and a new school year starts, our thoughts turn to change again.nnA perfect time to reconnect with God.nnParable is a retreat for anyone who has ever wrestled with change. nnThis September, we'll gather to explore the parables and hear how Jesus teaches us about change through stories drawn from ordinary life.nnTogether we'll draw close to God to hear the parables anew, asking how the sacred stories can open fresh perspectives on the changes we resist or embrace.nnThe Parable retreat is virtual, coming to you in the comfort and convenience of your own home. We'll gather on Zoom each day during the retreat and spend time in prayer outside the group sessions.nnThe companion e-book will give you a complete retreat guide: prayer, Scripture, reflection questions, and creative ways to pray with the parables.nnIf recent years have brought unexpected change—or if you're looking ahead with hope on the horizon—the Parable retreat will offer you the chance to pause and pray about God's work in your life.nnJoin us on September 23-26, 2021, to explore the parables together.
The Parable Retreat is open to anyone who wants to pray about changes in their life, big or small, positive or negative. For example:n
n
the birth of a child

n

the death of a loved one

n

career change or job loss

n

geographic moves or internal shifts

n

new relationships, work, or life transitions

n

discernment about personal or professional callings

n
nParable is also for anyone looking ahead to change on the horizon. If you're wondering where God is leading next—or where God has been at work in your past—this retreat is for you.nnThe retreat will offer large group presentations, optional small group conversations, and ideas for creative ways to pray and reflect on your own throughout the retreat days.
How does the retreat work?
The retreat will run from Sept. 23-26, 2021.nnWe'll gather on Zoom for 4 one-hour sessions of presentation, prayer, and reflection:nnSession 1: 7:00 pm CDT, Thursday, Sept. 23rdnnSession 2: 7:00 pm CDT, Friday, Sept. 24thnnSession 3: 3:00 pm CDT, Saturday, Sept. 25thnnSession 4: 3:00 pm CDT, Sunday, Sept. 26thnn nnEach day of the retreat, we'll explore parables from the Gospels, reflect on what Jesus' stories mean for our own lives, and go forth with questions to ponder in prayer.nnParticipants will have the option to join small group discussion for 30 minutes following each large group session.nnZoom links will be sent to participants via email, and all sessions will be recorded if you're unable to join live (or simply want to listen again).nnThe Parable e-book will guide you through the retreat and give you resources to keep reflecting afterward:n
n
a guide for making an at-home retreat

n

Scripture, prayers, and reflection questions

n

space for journaling or drawing/painting

n
nThis retreat is designed to fit your life. You can watch the recorded live sessions later according to your needs, and spend each day in reflection and prayer whenever it fits your schedule. Together we'll create time and space set apart to encounter God.nnParable will meet you right where you are.
Registration information:
The retreat costs $100, which covers:n
n
4 retreat sessions held on Zoom on Sept. 23-26, 2021

n

the companion e-book with complete retreat materials

n

all preparation and follow-up materials sent via email

n

access to recorded Zoom sessions and videos for 30 days following the close of the retreat

n

optional small groups that will meet for 30 minutes following the large group session each evening

n