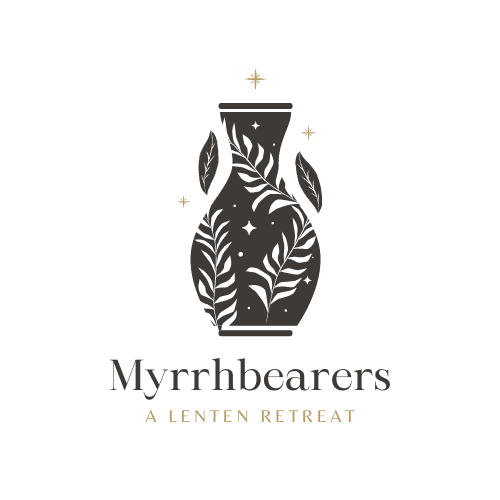 Myrrhbearers: A Lenten Retreat
"A myrrhbearer is anyone who is willing to bring comfort and solace to another. These women challenge us to leave our security and to put aside conventional thinking and rules in order to care for one another."nn— Sister Catherine Ward, I.H.M.
This Lent, join us to explore the stories of the Myrrhbearers: the women and men who cared for Jesus at his death and burial—and the first to discover the empty tomb.nnFrom Mary Magdalene to Joseph of Arimathea, the Myrrhbearers teach us how to offer to God all that we have and all that we are—and how to receive the joy of the Resurrection in return.nnThis Lenten retreat will combine prayer, Scripture, reflection, and discussion (plus a new way to pray with the icons of the Myrrhbearers).nnThe retreat is virtual, coming to you in the comfort of your own home, to fit into your own schedule. The Myrrhbearers e-book gives you a complete retreat guide plus a prayer companion through all six weeks of Lent.nnTogether we'll pray through the season of Lent, to draw closer to God through the stories of Jesus' closest companions.nnJoin us from March 11-14, 2021, to gather together in the heart of Lent.
The Myrrhbearers Retreat is perfect for you if:nn- You're drawn to dive deeper into Scripturenn- You're longing for more peace right nownn- You've been frustrated in the past & "given up" on prayer halfway through Lentnn- You want to try praying with all 4 Gospels but don't know how to startnn- You love to connect with others who are following Jesusnn- You want the ease of making a retreat at home
How does the retreat work?
The 4 online retreat sessions will run daily from March 11-14, 2021, at 7:00 pm CST each evening.nnEach day of the retreat, we'll gather on Zoom for 1 hour. All links will be sent to participants via email, and sessions will be recorded if you're unable to join live (or simply want to listen again).nnTogether we'll explore one story from Scripture each day, reflect on what it means for our own lives, and go forth with questions to ponder in prayer.nnParticipants will have the option to join small groups for discussion for 30 minutes after the large group session.nnThe Myrrhbearers e-book will guide you through each day of the retreat AND the whole season of Lent, including:n
n
a guide for making an at-home retreat

n

background info on the Myrrhbearers to orient you to their stories

n

daily Scripture readings and original prayers for the 4 days of retreat

n

weekly Scripture readings, reflections, and questions for journaling through Lent

n
nThis retreat is designed to fit your life. Sessions will take place in the evening but you can watch them later according to your schedule. Together we'll create time and space set apart to encounter God, even within the pull of work, home, family, and community.nnMyrrhbearers will meet you right where you are.
Registration information:
The retreat costs $100, which covers:n
n
all 4 retreat sessions held on Zoom from March 11-14, 2021

n

the 60-page companion Myrrhbearers e-book with complete retreat materials AND a reflection guide for the whole season of Lent

n

all preparation and follow-up materials sent via email

n

access to recorded Zoom sessions for 30 days following the close of the retreat

n

optional small groups that will meet for 30 minutes following the large group session each evening

n